Plumbing
---
You may not give your plumbing system much thought on a day-to-day basis, but you rely on its functionality every time you enter the bathroom or kitchen. So when your faucets run dry, the toilet starts backing up, or your plumbing system shows any other signs of damage, you need an affordable plumbing company to send someone out to your home or business as quickly as possible.
Look no further than the plumbing experts at LimRic! As Charleston's trusted full-service plumbing company of over 50 years, we offer comprehensive plumbing solutions to all local and surrounding residential and light commercial residents. Our goal is to ensure your home's comfort through outstanding plumbing repairs and customer satisfaction.
Let us show how a full-service plumbing company is a one-stop shop for personalized solutions. Call LimRic with any plumbing issues today!
Emergency Plumbing Problem?
The Best Plumbers in Town Are Here for You!
Plumbing disasters always erupt at the most inconvenient times — that's why they're called disasters. When you need a local plumber more than ever, you can always count on LimRic to be there for you!
Our emergency plumbing services are available seven days a week. Whether your plumbing system starts acting up in the middle of the night or during lunch hours, LimRic contractors are always ready to help! We provide you with the best plumbing services because we show up on time with the necessary gear and equipment to take care of all repairs in a timely and efficient manner.
Our plumbing company considers the following problems to be plumbing emergencies:
No water
Lack of hot water
Frozen pipes
Burst pipes
Severely clogged drains
Gas leaks
Don't hesitate to contact us if you're dealing with a plumbing emergency at home or at your business!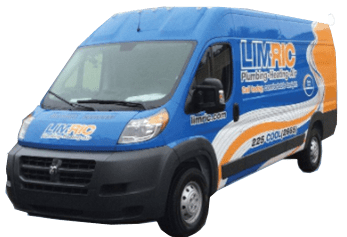 Our highly-trained and professional technicians are ready to help!
The Full-Service Plumbing Company That Does it All!
There's a reason local residents refer to LimRic as a full-service plumbing company. It's because our plumbers are expertly-trained, experienced, and certified to take care of all your plumbing needs. Take a look below at the services we offer, then dial our number to schedule an appointment with the best plumbing company in the business.
Water Heater Services: Few things are more frustrating than running out of hot water when you're in the middle of something important, like taking a nice shower at the end of a long day or washing dishes after dinner. Yet, these are the risks we take when utilizing a hot water heater that's not in the best possible condition. However, if you ever do find yourself in a similar situation, don't panic. The best plumbers in all of Charleston are at your disposal. Just call LimRic to schedule an appointment.
Sewer Line Services: When working properly, your sewer line or septic system eliminates waste from your home in a hygienic and convenient manner. It's one of the hardest working components of your plumbing system that you rarely take the time to think about — until something goes wrong. When sewer lines get clogged, you'll notice all sorts of unsightly manifestations popping up in or around your home, such as sewage backups, nasty odors, mold growth, wet patches of lawn grass, etc. This can make your home feel uncomfortable, unclean, and unhealthy. It's best to leave such an extensive repair job to a team of certified plumbers. Our plumbing contractors have all the necessary tools and equipment at their disposal to make your sewer line repairs quick and affordable. Get in touch with a local plumber by calling today!
Drain Cleaning and Repairs: Slow drains and gurgling plumbing fixtures may seem like nothing more than inconveniences you're willing to live with at first. After all, a clogged drain isn't an emergency situation, right? Actually, it can be! Left untreated, drain blockages will continue to accumulate debris until they grow big enough to completely block the flow of water. You can prevent dealing with an awful backup by calling a LimRic plumber for a drain cleaning. As one of the leading plumbing companies in town, we are here to serve all of your plumbing needs day and night, weekday and weekends, whenever and wherever you need us!
Water Filtration System Installations: Did you know that most Charleston homeowners have hard water running through their plumbing systems? That's why tap water tastes funny, leaves stains on clothes and dishes, damages your plumbing appliances, and racks up your water bill. If this sounds similar to what's going on in your home, you may benefit from installing a water filtration system. Water filtration systems purify water at the source of distribution, so every pipe and fixture in your home only has access to 100% clean and healthy water. Contact a LimRic plumber to ask if the HALO water filtration system is right for you!
Contact the full-service plumbing company that's dedicated to your comfort and satisfaction!
$500 OFF
Sewer or Water Whole Home Replacement
Expires: November 30, 2022
Join LimRic's Comfort Club
It's more than service... It's about COMFORT. Breakdowns are inevitable. Get protection today!
At LimRic, Our People Make the Difference.
Join Our Team, And Discover why LimRic was voted one of the "Best Places to Work 2022"!