Heat Pump Services in Charleston & the Surrounding Region
Heat Pump Services
---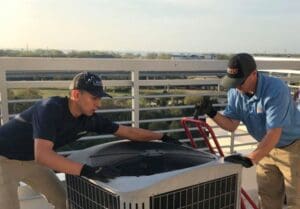 LimRic provides comprehensive heat pump services, from seasonal tune-ups and debris removal to heat pump repair and new heat pump installation. With 30 fully-stocked service vehicles and a large team of highly-trained technicians, we have the tools and experience to handle your HVAC needs whenever you need them; we have locations throughout the Lowcountry and a standing commitment to providing same-day service for customers who are facing a heating emergency.
How Heat Pumps Work
Your heat pump has the ability to both heat and cools your home, making it one of the most cost-effective and versatile HVAC systems available. Heat pumps work by gathering and transferring heat into or out of your home. In winter, the system pulls cold air from outside, pumps it through a compartment of compressed refrigerant, and then circulates it through a system of coils. This process produces heat that can then be pushed throughout your home.
Heat Pump Repair and Expected Lifespan
The heat pump is a durable year-round home heating system with a lifespan ranging from 10-15 years, depending on your local climate, usage patterns, and how well you maintain the system. One way to ensure your heat pump lasts as long as possible is to repair problems as soon as they appear. If you notice that your furnace isn't putting out as much heat as it used to, or you hear strange clanging, clicking, or grinding noises, it may be time to call in a professional to evaluate your heating system.
Over the lifespan of your heat pump, you may need heat pump repair services to fix one or more of the following issues:
Refrigerant leaks or line breaks

The icing of the outside coils or the unit in general

Electrical shorts

Broken reversing valve
It's important to address issues with your heat pump as soon as possible to avoid damaging the mechanical components of your heating system.
Seasonal or yearly inspections of your heating system can catch electrical or mechanical problems that may have been building up over the previous months.
As a heat pump owner, you can help keep your system working smoothly by changing the air filter regularly, cleaning the coils and/or fans when needed, and removing any debris that has accumulated in or around the unit. You can also visually inspect your heat pump at least once a month to check that there are no leaks within the system.
At least once per year, or preferably once each season, you should have your heat pump inspected by an HVAC professional. Our expert field technicians have the right tools and experience to inspect your heating system and allow you to update or upgrade your equipment. During a regular inspection, you can expect us to complete the following tasks:
Check any existing vents or ductwork for blockages or buildup, and ensure that air is moving through the vents to each part of your home

Inspect/clean the condenser fan

Check the air filters and change them out if needed.

Make sure the belt and pulley system is aligned properly.

Lubricate internal moving parts

Flush condensate drain

Test wires and connections, tightening if necessary

Test the thermostat

Measure refrigerant levels and add if necessary
A seasonal tune-up of your furnace takes just a few minutes and can save you hundreds or thousands of dollars in future repair work. It can also help you lower your monthly utility costs by keeping your heating system running efficiently.
No matter how well you treat your heat pump system, eventually, the time will come when you need to consider replacing it. When this happens, you can trust our professional HVAC technicians to get your new heating system up and running quickly.
Before any heat pump installation, we will discuss your household heating needs and energy usage goals. We may also run some calculations to determine your home's BTU requirements and inspect your home's ventilation system and existing ductwork to help you choose the suitable heat pump for your home.
Frequently Asked Questions Regarding Heat Pumps
How is a heat pump installed?
There are usually two basic components to a heat pump. One part of the system is installed within the home; the other is placed outside. The two components are connected by a refrigerant line that carries heat from the outside unit to the inside, where it is then distributed through the home's ductwork by way of an internal fan.
Why are heat pumps considered so cost-effective?
The answer to this question is highly subjective, but many people find the heat pump to be more affordable than other forms of heating. Traditional heaters use electricity to generate heat, but heat pumps only use electricity to push heat into the ductwork.
Should I switch to Emergency Heat when it gets below 35 degrees outside?
The Emergency Heat setting on your thermostat should only be used when your heat pump stops working or the thermostat malfunctions. In most cases, when the temperature outside dips below 35 degrees, your heat pump will automatically switch over to a secondary heat source.
How often should I change the air filter in my system?
Most professional HVAC technicians will recommend changing your air filter every 3-4 months, but this is a generalization. You may have to change it more frequently if you smoke or live in a home with multiple pets. You may also have to change it more frequently if you live in a geographic location that is high in humidity. The type of air filter you use can also impact how often you need to switch your filter out; filler-based filters can last up to six months, while fiberglass air filters must be changed every 30-60 days.
Can I put a cover over my outdoor heat pump?
No. You should never try to cover your outdoor heat pump. This heating system has to be able to pull the surrounding air into the unit and convert it to heat. Covering the outdoor heat pump renders it useless, as it can no longer take in air or vent properly.
Where can I find a heat pump service near me?
A simple Google search using a keyword phrase like "heat pump maintenance near me" will produce a list of companies in your area. At LimRic Plumbing, Heating & Air, we offer comprehensive heat pump services to residents of Charleston, South Carolina, and the surrounding counties.
We aim to meet each of our customer's needs while exceeding their expectations for quality plumbing and HVAC service. Fill out our online form or Call us from anywhere in the Charleston area, and let us serve you today!