Heating Maintenance Services in North Charleston
Heat Pump Tune Up
---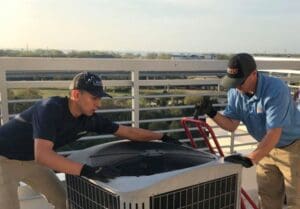 The only way to ensure that your heat pump can survive the cold winter months or the hot summer days is by scheduling regular heating maintenance services with a company you can trust! LimRic offers the best and most affordable heat pump services in Charleston and the surrounding areas. Our team of heating specialists is well-versed in the maintenance and repairs of ductless and ducted heat pump systems. No matter what type of heating system you employ in your home, we can take a look to make sure it's running at optimal efficiency. A small heating maintenance service now can help you save a lot of money on heat pump repair services in the future.
When the winter chill comes knocking on your door, turn to LimRic to keep the cold at bay while you relax in the warmth of your home. Contact us today to schedule an appointment.
Don't Neglect Your Heat Pump Maintenance
Regular maintenance not only helps to improve your system's performance, but it can also help your heat pump run smoothly by preventing serious damages. It's like an oil change for your car. You wouldn't purposefully neglect important maintenance steps before a long trip — the same goes for your heat pump as the winter months approach.
As with any important home appliance, homeowners should schedule a professional heat pump tune-up at least once a year. Only expert field technicians have the knowledge and tools necessary to examine every moving part of your system for signs of internal damage. With a full-service heating maintenance and inspection from LimRic, you get peace of mind that your heat pump is in perfect condition, from the motor down to the very last valve. In fact, here is a short list of components we'll be more than happy to check during your heat pump tune-up.
Electrical connections and relays
Condenser fan and coils
Condensate drain and pan
Air filters
Ductwork and vents
Belt and pulley alignment
Refrigeration metering device
Blower wheel and motor
Compressor components
Crankcase heater
Lubrication
Refrigerant levels
Debris removal
Thermostat functionality
And more!
Perform a DIY Heating Maintenance Service
Although a professional inspection and maintenance of your ductless heat pump will ensure your system is performing well overall, it doesn't hurt to give your heat pump a little TLC once in a while. As a homeowner, there are a few things you can do to help keep your heat pump strong and healthy all year long.
Change air filters: The single, most important thing you can do to help extend your heat pump's lifespan and lower your utility bills is to change air filters as often as needed. Air filters can accumulate a lot of dust and dirt, which restricts airflow and ultimately damages the system.
Remove outdoor debris: The outdoor compressor should never be obstructed in any way. If there is any snow or ice on the unit, remove it to the best of your ability. Trim foliage, so it's at least 15 feet away. Remove any other debris that sits on the unit.
Clean fans and coils: Fans and coils can gather dust and dirt that circulate it throughout the heat pump and the house. Make sure you clean fans and coils as best as you can without dismantling or damaging the system.
Check for proper drainage: The heat pump should be elevated at least four to eight inches above the ground to ensure proper drainage. If you notice your heat pump is sitting too low or has developed a leak, contact a professional immediately.
Inspect for damages: While you're performing your other maintenance duties, look for any indications of damage, so you schedule a heat pump repair service right away.
Schedule Your Heating Maintenance Service and More Now!
You don't have to look too far for the best heating services in Charleston. We're right here! Our expert heating specialists can take care of everything you need, from heat pump replacement and installation to repairs and inspections. All you have to do is call us to schedule an appointment!