Heating Maintenance Services in Charleston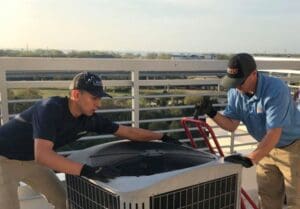 The only way to ensure that your heat pump can survive the cold winter months or the hot summer days is by scheduling regular heating maintenance services with a company you can trust! LimRic offers the best and most affordable 
heat pump services
 in Charleston and the surrounding areas. Our team of heating specialists is well-versed in the maintenance and repairs of ductless and ducted heat pump systems. No matter what type of heating system you employ in your home, we can take a look to make sure it's running at optimal efficiency. A small heating maintenance service now can help you save a lot of money on 
heat pump repair services
 in the future. When the winter chill comes knocking on your door, turn to LimRic to keep the cold at bay while you relax in the warmth of your home. Contact us today to schedule an appointment.
Don't Neglect Your Heat Pump Maintenance
Regular maintenance not only helps to improve your system's performance, but it can also help your heat pump run smoothly by preventing serious damages. It's like an oil change for your car. You wouldn't purposefully neglect important maintenance steps before a long trip — the same goes for your heat pump as the winter months approach. 
As with any important home appliance, homeowners should schedule a professional heat pump tune-up at least once a year. Only expert field technicians have the knowledge and tools necessary to examine every moving part of your system for signs of internal damage. With a full-service heating maintenance and inspection from LimRic, you get peace of mind that your heat pump is in perfection condition, from the motor down to the very last valve. In fact, here is a short list of components we'll be more than happy to check during your heat pump tune-up. 
Perform a DIY Heating Maintenance Service
Although a professional inspection and maintenance of your ductless heat pump will ensure your system is performing well overall, it doesn't hurt to give your heat pump a little TLC once in a while. As a homeowner, there are a few things you can do to help keep your heat pump strong and healthy all year long.
Schedule Your Heating Maintenance Service and More Now!
You don't have to look too far for the best heating services in Charleston. We're right here! Our expert heating specialists can take care of everything you need, from heat pump replacement and installation to repairs and inspections. All you have to do is call us to schedule an appointment!
WHAT OUR CUSTOMERS

ARE SAYING
"LimRic repaired and then replaced my 10 year old water heater. The staff are very kind, respectful, professional, and knowledgeable. They gave me several estimates on a new water heater and even offer financing programs. I tried other companies before finding LimRic and had awful experiences. LimRic had my problem fixed very quickly and did an amazing job. LimRic is the only plumbing company I will use or recommend!! Donovan, Brian P. and Shawn H. had my issue fixed in no time and it was a pleasure working with them! Praise Jesus for these gentlemen…definitely a God-send!!"
"Our 14 year old gas water heater tank finally bit the dust, and we are very happy that we called LimRic. The scheduling staff did a great job notifying us that someone was on their way to us. Our technician JT was very helpful and gave us a quote for all of our available options to get the problem solved. We appreciated that he was very respectful of our home, and he was wearing a mask for the duration of his time inside. I know that we got the best service we could have asked for, for a really great price. A very good experience and we highly recommend. Thank you!"
"They were able to send out a technician to assess a leak within hours of me calling. My technician JT was very friendly, knowledge, thorough and efficient. From start to finish my complete experience with setting an appointment all the way to them completing the job, I am beyond pleased! I'd give them 10 stars if I could!"